Cafe De Koffer
Café de Koffer. The eatery with a view of the Standerd Molen in Mierlo. By the way, snack bar may not be the right word. De Koffer is a café in the broadest sense of the word: café, eatery, restaurant, tapas bar, club and terrace.
The interior is beautiful, you can't believe your eyes. A huge wall with suitcases, cosy seats, a large bar and above all a lot of warmth and cosiness. The café exudes a Mediterranean atmosphere in which everyone immediately feels at home. Eating, drinking, chatting, networking, relaxing or dancing. It's all possible, every moment of the week has its own character. From a delicious three-course menu to unlimited tapas: it is always good.
The Koffer and the Standerdmolen are the starting point of the Katoenpad. Or the endpoint. Just which way you come. Both appear in the locally famous children's book, so whether you start or end there: always good to visit De Koffer.
VVV i-point
Café de Koffer is Mierlo's VVV I-point. You can go here with all your questions about Geldrop-Mierlo. Walking and cycling maps are also sold here.
Reviews
Read the experiences of other visitors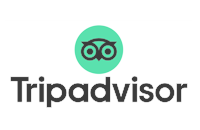 View the reviews of previous guests at this location.
View all reviews on tripadvisor